The Grim Reaper follows us all!
'The Hanged Man' the highly acclaimed first book of the Digby Rolf series is joined by book two, 'In the Shadow of the Reaper'.
The Reverend Digby Rolf returns to the village of his birth as Vicar of Wickham Bumpstead, where life meanders along at a predictable country-style pace. A series of unexplained murders see Digby enthusiastically seeking answers, much to the chagrin of Police Inspector Nokes, who, knowing Digby's crime solving prowess, is less than helpful. The murder victims, although local to the village, appear to be connected to harrowing events that occurred in Dunkirk during World War II. The Reverend Digby Rolf will need all his sleuthing skills to solve this mystery.
The Reverend Digby Rolf will need all his sleuthing skills to solve this mystery.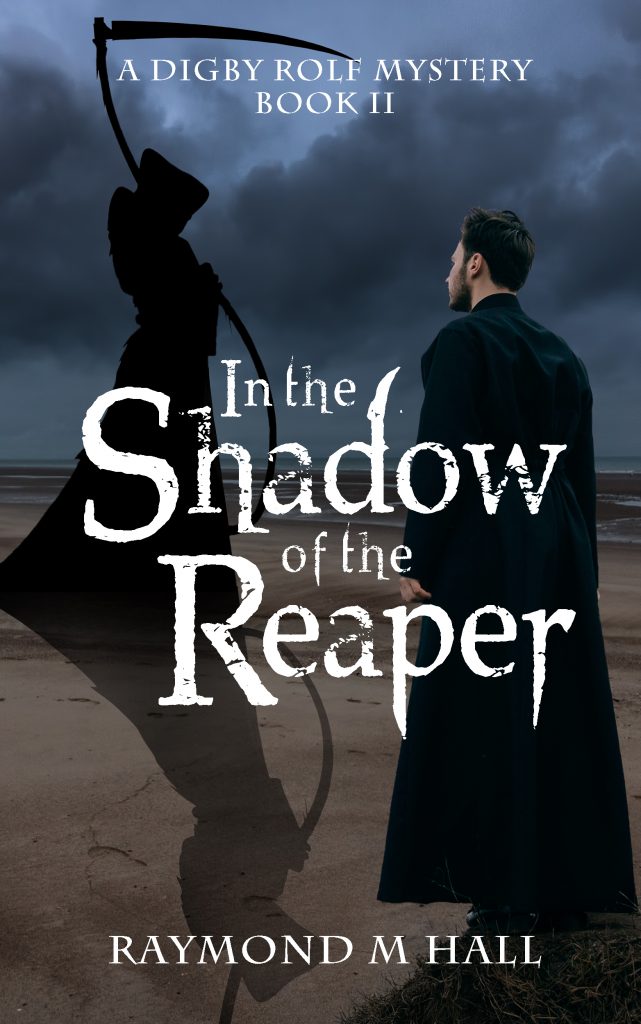 Reviews

A true gem in the vein of Sherlock Holmes!
Reverend Digby Rolf is not your typical detective. He's a young, mild-mannered vicar in the English village of Wickham Bumpstead who follows in the footsteps of his father who recently passed from advanced cancer. Previously, Digby solved a high-profile case in London, and now, he's returned to his quaint village where he must tend to the villagefolk. This sequel draws into another series of murders - this time they're in his own village. Digby races against time to uncover the truth behind these murders before more men are claimed.
This great read bears all of the qualities of a great murder mystery - a cast of memorable, well-written, and interesting characters, a quaint, mysterious setting, a protagonist who's certainly more than his humble origins, and a sinister plot full of twists, turns, and turmoil. The story races along at a comfortable pace, and you're left wanting to read "just one more chapter". Raymond Hall writes a truly magnificent work that's well worth reading, especially if you're a fan of Sherlock Holmes.
- Amy Williams, October 19, 2018

Book two does not disappoint!
Raymond M. Hall's second Digby Rolf book, "In the Shadow of the Reaper," satisfies those of us who read part one and have been anxiously awaiting a sequel. If you haven't read part one, you can read part two and still understand what's going on, but I suggest you go grab part one and really meet Digby from the start. He's the parish Vicar, but not quite the regular person's view of how one would fill that role. He has no qualms about jumping in, yet again, to play detective and solve a mystery. In this case, there are multiple murders in his village and the police are unable to find any motive to lead them to the killer. Enter amateur detective Digby Rolf, who finds a tenuous connection and heads to France to confirm his suspicions. Once there, he finds even more than he bargained for in the form of Auguste, who puts him on an even more dangerous path that stretched back decades. Unraveling this web of mystery, intrigue, treachery, deceit, and passion might just be too much for our protagonist to handle this time…or will it?
- A Cannady, October 23, 2018

All the Elements of a Great Mystery Series
"In the Shadow of the Reaper" by Raymond M. Hall is a delightful read. My wife got me into watching the Father Brown murder mystery show, which I enjoyed because Brown is a clergyman, not a professional crime-solver. It also has the charm of taking place in a foreign land. Those two reasons are why I was interested in Digby Wolf. And I wasn't disappointed. The two series are quite different, but they share the same strengths for me as a reader.
And like any truly good mystery writer, Hall's prose is as well-written as his plot. His characters are as likeable as the mystery is intriguing. And the mystery is, indeed, intriguing. You'll never guess where it's going.
So, with an abnormal, interesting protagonist in a foreign land, a twisting plot, and great writing, I'd say Hall has a winner here.
I haven't read book one of the series, but I wasn't lost at all. You can pick this book up as the latest in the series and then go back to read book one if this one catches your fancy.
- Stephen R. Wilson, October 20, 2018