The Bodmin Moor Panther; Real or Imagined?
The third book in the Digby Rolf mystery series finds Digby at a crossroads. He leaves the church to set up a detective agency in London which proves to be a great financial success, although to Digby the endless divorce cases turns into a nightmare of boredom. Through Masonic contacts, he is engaged by Lady Isobel Brewster, the widow of the late Lord Quentin Brewster, to investigate His Lordship's apparent suicide. If it can be proved to be a case of murder, the estate will benefit from a huge life insurance policy.
Digby and his new assistant, Frederica, travel to Bodmin Moor at the request of the widow where they encounter members of the extended family vying for both title and the estate. The mysterious manor house gradually gives up its secrets as one by one family members succumb to a violent end.
Digby encounters the mysterious 'Beast of Bodmin Moor' a large black panther which, according to local legend, has stalked the moors for many years. For once the good Reverend is at a loss and struggles to solve the many mysteries surrounding High Tor Manor in its remote location.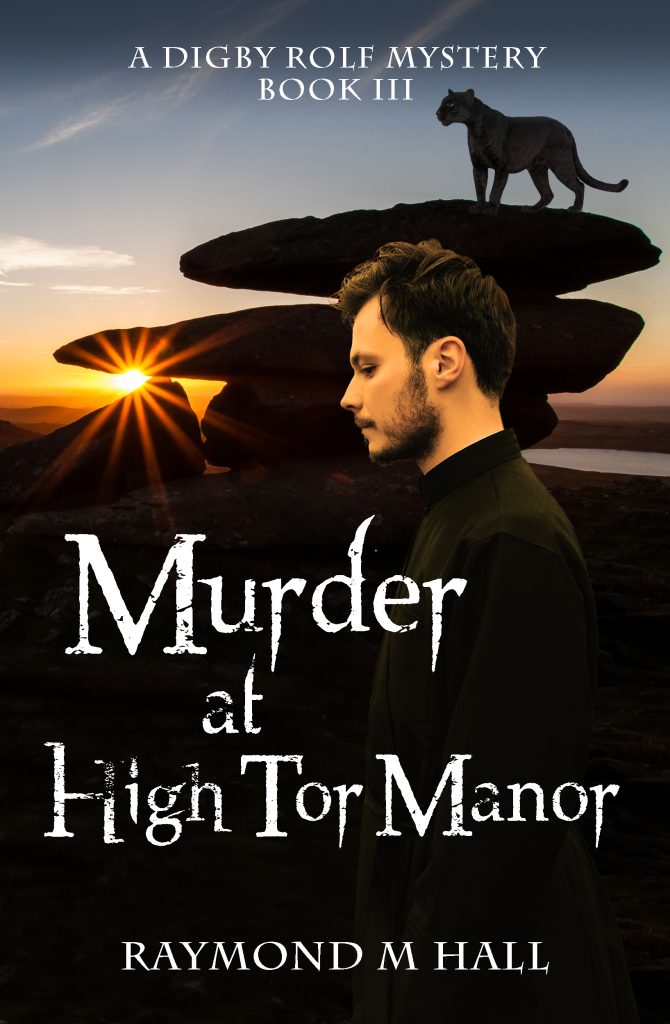 Reviews

Absolutely the best read ever!
"Murder at High Tor Manor" is a must read! I thoroughly enjoyed this book as it carried me through the supernatural, sex, murder and mystery. It keeps you guessing as the Brewster family is being murdered one by one. A bit of history regarding the Nazis and the Jews, the Church and witchcraft is sprinkled throughout which raises your consciousness. It is very well written and holds you in its grips while you follow Digby through the misty moors.
- Michelle Williams, April 13, 2019

Fun, entertaining mystery
The Digby Rolf Mysteries by Raymond M Hall is an entertaining series. Like his other books, this paranormal thriller features ghosts, adventures, and a wise detective. In this third book of the series (Murder at High Tor Manor), Digby has left the church to start his own detective agency. As a capable detective, he winds up with plenty of work; however, it is mostly boring divorce cases. But, then he is presented with a case where he needs to discover whether or not the deceased committed suicide or was murdered. Naturally, the case needs to be solved for insurance purposes. In order to solve the mystery, Digby must travel to High Tor Manor where he finds many other mysterious and concerning things like the legendary black panther and the reputation of the deceased. Overall, this book is another fun one to read about this reverend turned detective. It moves quickly and leaves you guessing until the end.
- Jen C., April 5, 2019

To the edge of your seat
If you are one who enjoys crime-solving and everything surrounding that kind of mystery, this is the book for you. In this third installment of the Digby Rolf Mystery series, Digby is a former reverend from a small country village. He then moves on to become a renowned detective.
In this installment, Digby runs his own detective agency in London. But I don't want to give you too many details as to not ruin it for you. Maybe you want to read the first two books of the series.
This story was intriguing, made me cringe at moments and filled me with joy at others. I was not able to stop once I engaged in the story so b warned that you will probably feel the same. I recommend this one to anyone who enjoys mystery murders and such.
- Jose Popoff, May 8, 2019