The Dark figure in the doorway wasn't smiling!
Sebastian Carmichael, world renowned classical pianist, doesn't see the figure, if he did, he wouldn't be quite so happy with his purchase of the old bakery. His dream is to renovate the centuries old property but not everyone is happy with that idea. Sebastian's tradespeople aren't too keen either and nervously go about their business constantly looking over their shoulders.
Sebastian is blind to all this, especially after he meets the lovely Briony who quickly captures his heart, but even she is reluctant to visit him in his new home.
This thrilling mystery, set over two time zones, will leave you guessing until the very end, who is haunting whom?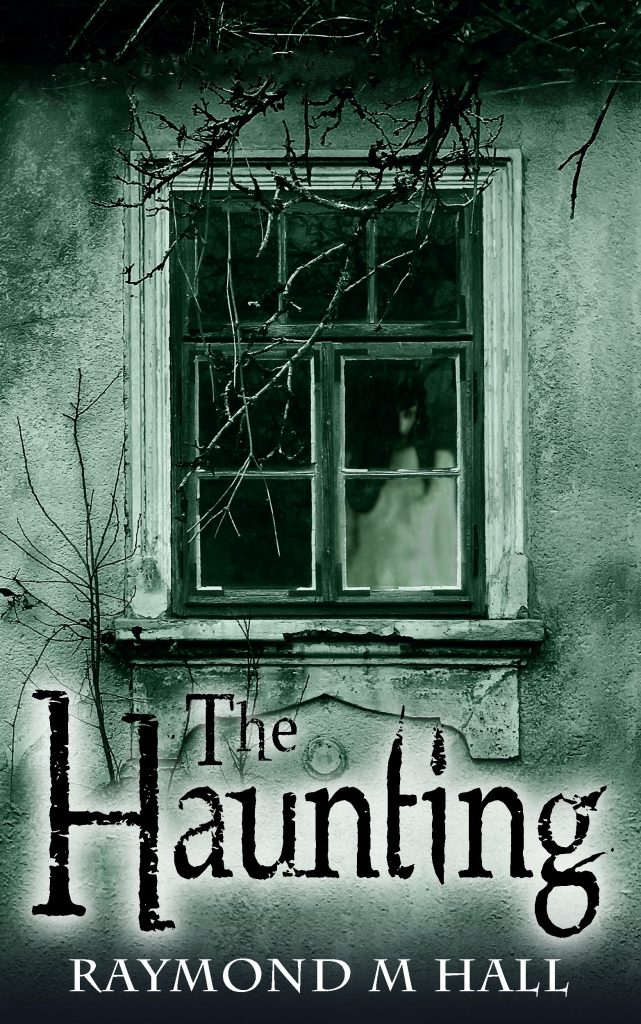 Reviews

The dark figure in the bakery doorway wasn't smiling.
Australian author Raymond M Hall, born in Essex, England and lived in Mistley, and spent his evolving career in various occupations including the police force. He now lives and writes in New South Wales, Australia.
Raymond writes with a style that demands admiration and commands our attention. The manner in which he blends bifurcated time frames and characters places the story of success and career changes and love stories into the realm of the paranormal - and for a story with the title 'The Haunting' this approach works very well.
One of Raymond's many strong attributes as a writer is the manner in which he sculpts his characters. Of the several important characters in this book, note how he introduces Sebastian: 'Sebastian needed an interest, something to take his mind off music altogether. Relaxing once again into travel mode, he mulled over the things he was capable of and settled on a past hobby he had as a teenager. His father had been a builder with not one musical bone in his body, and mother was a beautiful woman, but again no musical talent. Sebastian had no idea where his musical ability derived, perhaps some distant antecedent? His parents had been killed together in a road accident over twenty years before, just when his career was hitting the heights. He remembered helping his father when he was younger and enjoyed spending time around building sites, especially renovation projects. He thought at one time he would follow in his father's footsteps, but that was before his old music teacher had realised the hidden talent he possessed in his fingers. A scholarship had developed, and things had progressed rapidly. He had won just about every award that was winnable and held honorary degrees from music colleges worldwide.'
But for a very brief summary of this long book the following synopsis captures highlights – 'Sebastian Carmichael is one of the world's greatest concert pianists, but he feels a new life awaits him when the strain of performing becomes too much. A trip to the countryside sees him take on the challenge of a run down property in Lincolnshire, a disused bakery, and he can't wait to get to grips with renovating the sadly neglected building. However, it seems he is not the only occupant and is forced to come to terms with his unwelcome guests. The past meets the present as he struggles to make his new found venture a success, particularly when he encounters a new love, the mysterious Briony.'
Tremendously satisfying writing and character/time interplay make this a book to treasure. Think Poe, Doyle, King…Grady Harp, November 17
- Grady Harp, November 10, 2017

A beautifully written story with memorable characters and an exciting plot
he Haunting by Raymond M Hall is a beautiful story that features art, love, and one man's struggle to succeed against the odds stacked against him. Sebastian Carmichael could be the world's most reputable pianist, but he can't keep on this way. He can't continue performing. He wants something else, something that won't suck the energy from him and leaves him listless. So, he moves to the countryside where he gets an old property. But he has to come to terms with "other" occupants. As he settles down, struggling to get his business off the ground, a series of events happen, bringing up the past. Read on to find out what happens when he encounters Briony, a mysterious woman he is falling fast in love with. A beautifully written story with memorable characters and an exciting plot, The Haunting will leave readers with chills and goose bumps. It was a great read!
- Romuald Dzemo, July 3, 2017

A thrilling mystery that leaves you guessing until the very end
One of my favorite reads in quite some time, the Haunting is the kind of book you should pick up on a rainy weekend. Be forewarned, though. You won't be able to put this one down until the very last page. Sebastien is an acclaimed pianist, known far and wide for his expert musical skills. After suffering an unfortunate health scare on stage, he decides to take a little r&r in the country. New love combines with old ghosts to create an enticing mystery that will drag you backward and thrust you ahead in time to span generations of love, life, and tragedy.
The author certainly takes their time to let the story unfold, but once it gets going, the payoff is more than worth it. Give this one some time to warm up and you won't be disappointed. Fair warning, there's plenty of adult and harsh material, but nothing out of place or used as a narrative crutch. The violence (and there is plenty to be found) is all with purpose and the drags the reader along for the ride as the mysterious history of the characters, town, and house unfold before your eyes.
- Kimberly H, October 14, 2017